Grow your business with Microsoft 365
Bring your business ideas to life with the tools you need to create, connect, and get more done from anywhere.
01
Our company
Stay informed about Microsoft – from company facts and news to our worldwide locations and more.
02
Who we are
Get to know some of our people, explore engaging stories, and meet the leaders who shape our vision.
03
What we value
See how we utilize technology to build platforms and resources to help make a lasting positive impact.
// Microsoft 365
Seamless collaboration for the way you work today.
Microsoft 365 helps you work smarter and faster, with tools to build and manage your business, stay connected with customers, and safeguard your data.
// Microsoft Dynamics 365
Solutions that fit you. Not the other way around.
Choose one, some, or all. Dynamics 365 applications are made to work together—and with your existing systems—for a comprehensive solution that connects your entire business. So you connect with every customer.
Sales and marketing
Drive more revenue by connecting sales and marketing
Supply chain
Adapt and thrive with a digital supply chain
Finance
Build finance and business operation agility
Service
Reimagine the way you deliver customer service
Security for your small or medium-sized business
Work securely from anywhere with comprehensive, cost-effective and easy-to-use solutions, especially designed for businesses with up to 300 employees.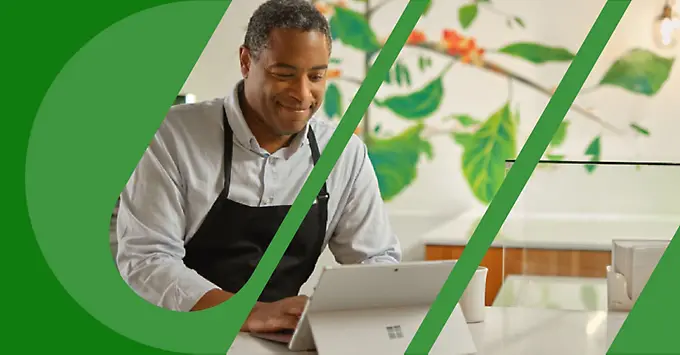 Security is critical for your business
Businesses are experiencing an increase in both the volume and sophistication of cyberattacks. With rapid technology adoption and increased hybrid work, the risk is greater for small and medium-sized customers contending with budget constraints and gaps in specialized security skills. Microsoft offers comprehensive solutions to address this evolving threat landscape.
Comprehensive security products for your business
Modernize your business security, and upgrade from traditional antivirus software to enterprise-grade security for your apps, identity, data, and devices. Microsoft offers easy-to-use standalone products and full-featured packages to help keep you secure and save you time, freeing you up to focus on what matters most: running your business.